I was still working at Ignited when Avenue Q's creator Jeff Marx came to talk about creativity and passion.  One of the many things he said was that to discover you true passion, you must write down 100 things you ever want to do in your life. The first 20 will be easy but the next 80 will be tough.  But within this list, somehow you'll find what you're really passionate about.
That was March. I just now got to 70 items. I decided that I should share them anyway.
I never thought I'd write a Bucket List, but here I am, giving it a shot.  And from these 70 items, I can gather this much.
It seems my true passion in life is to travel, eat, raise/donate money for charity, and learn to do something uncommon–and occasionally scienc-y or involved firearms.
So…essentially, I want to be Anthony Bourdain (of whom I dreamed about once…) AND Adam Savage.
Good to know.
LAST UPDATED: December 25, 2014 — I am now going to move this post into a page so I can update it all the time. This post will not longer be updated after this point on.

The first 15 are listed by the order of what I'd like to do the most. If money is no object, that is…
1. Spend a few months in Italy traveling, and taking immersion courses and cooking lessons.
2. Take my dad traveling again. He can come to Italy with me if he'd like.
3. Take a Virgin Galactic Flight.
4. Really set up Geronimo! The Space Program  to send 6 kids to space.
5. Set up my mom's scholarship fund to be more than just an account we put money into, but an actual foundation where we can fund raise and send more teachers through the program.
6. Attend ComicCon. (That's right. I still have NOT been.) In costume, of course.
7. Take mime lesson. And conveniently, Santa Monica has one! One of the first things I'd do when I get a job, I swear.
8. Eat my way around Paris…
9. …and New York City…
10. …then see a big Broadway musical.
11. See London again…or for the first time since I really barely remember much of anything from when I was 15.  And visit with my friends Elan in Cambridge before the grand tour of the rest of the UK and Ireland with Brandon.
12. Finish our tour of New Zealand as we are missing the north island and the northern part of the south island. Hobbiton should be available again by the time we get back there. Hee. Oh, and to make sure I can meet up with my friend Sarah this time!
13. Learn to break down whole animals as a part of my survival skills. Hey, if we're going to survive the zombie apocalypse, someone's gotta learn to cook what we hunt!
14. Hike/camp Zion National Park.
15. See northern lights in person.  The one time in my life I volunteer to go to a cold place!
…From this point on, it's just a list of no particular order.
But I'm going to try to group them in category for you.
This is probably impossible but if I can get an opportunity, I would LOVE to hang out with Ted Nugent. I admire Uncle Ted for eating what he hunts and living a sustainable life.  If I can actually make this happens, I'm pretty sure I can take care of #13, and 43-48 as well. LOL
Adopt a Siamese-mixed kitten. So folks who want to see my half-and-half "baby" can shut the hell up. 😉
Accompany my friend Petra to her home in Venice, Italy.
Revisit Costa Rica and tour the south with my friend Richard.
Actually, I might as well go around the world to visit my friends, starting with Dani in Germany…
…Gian in Switzerland…
…Per in Sweden…
…Clara in Argentina…
…Brent and Ben in Australia.
Eat at Tickets in Barcelona.
See the snorting iguanas of Galapagos.
Be in the audience for Graham Norton Show in London.
Go on a safari camp. It doesn't have to be Africa. But an overnight camping in local safari parks totally counts! (San Diego Safari Park used to offer overnight program. Now I don't know where to go…)
Road trip across the U.S. and visit all 50 states if I can. Well, 39 left on that list.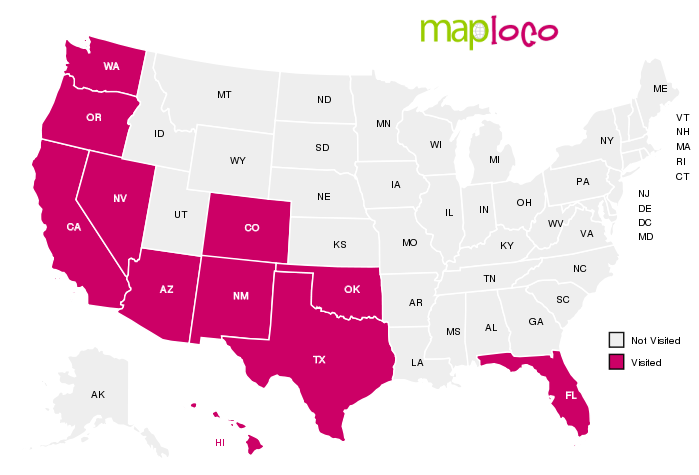 Create Your Own Visited States Map
See all the Hawaii islands. I've only been to Oahu.
Since I hate the cold, a quick look of Alaska would be nice too so I can round out all 50 states.
Visit the Charles M. Schulz Museum.
Party in Las Vegas. I've been to visit but never once partied.gone to a club or bar hop or anything crazy like that.
Visit the Vietnam Memorial in Washington DC…
…and the Smithsonian's Air and Space Museum…
…and the Natural History Museum.
Party with the Trojans in South Bend when we go play Notre Dame.
Lay out and watch the sky in Montana.
Have a lobster feast in New England.
Tour JPL. I just need to get a group together and arrange a tour. Being me, this should NOT be difficult…actually.
Pay homage to Elvis and visit Graceland.
Pay homage to the Beatles and cross that corner on Abbey Road.
Shoot a Gaitling gun…
…AK-47…
…FN P90…
…a grenade launcher…
…a sniper rifle…
…and a flamethrower.
Hit something with a sledgehammer.
Learn to throw knives…
…and dance the samba.
See the inside of a WWII era bombers. One of my favorite movies from childhood was "The Mission" episode of Steven Spielberg's Amazing Stories and subsequently Memphis Belle. I've seen the flying fortress from the outside but never been inside. ETA 10/17/14 – Did this at the Evergreen Aviation and Space Museum in McMinnville, Oregon.
Sing with a rock band. I don't have to tour with them or anything but I would like to rock out, just once.
Commission a steampunk/cosplay outfit.  ETA 12/25/14 – I'm crossing this off because I've put together enough items that I won't need to commission a piece now!
Take a few classes in Krav Maga.
Bake a pie from scratch. Surprised? I haven't tried baking a pie again since since the epic pie fail back when I first started cooking. (Oven was sort of broken so it wasn't really my fault, but still…) ETA 12/25/14 – It's a quiche, but that totally counts!
Make proper fried chicken. I still manage to screw this up after all these years.
See a real jousting match. Medieval Times and other theatrical jousting doesn't count. Yes, I'm a total sucker for Full Metal Jousting. My friend Rhino also used to joust.
Set up a scholarship for Thai students who want to study arts, performing arts, communications, etc. (anything that's not science or engineering) in the U.S. You can't really find a scholarship to study abroad in the arts.
Donate money to help keep music, drama, arts, and science programs in school…
…start a school garden…
…feed kids better lunch…
…get kids interested in science not just during school but for life…
…send troops some love through USO or other means…
…and replenish local food banks. ETA 10/17/14 – Someone reminded me that since I organize USC Alumni Club of LA Beach Cities Holiday Hats to Fight Hunger party & food drive for the past 4 years, this counts as a Bucket List completion.
See a Cirque du Soleil show. ETA 12/24/12 – We saw Zumanity!
See U2 in concert…
…Adele…
…and Jason Mraz.
Do you have a bucket list? Care to share a few items?