Bucket List
In March 2012, I was still working at Ignited when Avenue Q's creator Jeff Marx came to talk about creativity and passion.  One of the many things he said was that to discover you true passion, you must write down 100 things you ever want to do in your life. The first 20 will be easy but the next 80 will be tough.  But within this list, somehow you'll find what you're really passionate about.
I never thought I'd write a Bucket List, but here I am, giving it a shot.  By October, I had about 70 items.
From that, I gathered this much about myself.
Food
Feeding people
Serving the community/giving back
Travel
Science
So…essentially, if Anthony Bourdain (RIP) and Adam Savage had a baby. Or, Alton Brown in a travel show, more or less.
I've been working on this list ever since.
Last updated: July 2018.
Top 15
The first 15 are listed by the order of what I'd like to do the most if money is no object.
1. Spend a few months in Italy traveling and taking cooking lessons.
2. Take my dad traveling again. He can come to Italy with me if he'd like. 🙂
3. Plant a seed to start Geronimo! The Space Program to send kids on a commercial space flight for science.
4. Set up my mom's scholarship fund to be more than just an account we put money into, but an actual foundation where we can fundraise and send more teachers through the program.
5. Take mime lessons. Or clown school.
6. Eat my way around Paris…
7. …and New York City…
8. …then see a few big Broadway musicals.
9. See London again…or for the first time since I really barely remember much of anything from when I was 15.
10. Finish our tour of New Zealand as we are missing the north island and the northern part of the south island. Hobbiton should be available again by the time we get back there.
11. Learn to break down whole animals as a part of my survival skills. Hey, if we're going to survive the zombie apocalypse, someone's gotta learn to cook what we hunt!
12. Hike/camp Zion National Park.
13. See northern lights in person. The one time in my life I volunteer to go to a cold place!
14. San Diego Zoo Safari Park's Roar & Snore where you spend the night sleeping in the park, hearing the animals roar!
15. See the Redwood forest. And, of course, run through it going PEW PEW!!!!
And the rest
This list may grow or shrink over time.
Adopt a Siamese-mixed kitten. So folks who want to see my half-and-half "baby" can shut the hell up. 😉
Accompany my friend Petra to her home in Venice, Italy.
Revisit Costa Rica and tour the south with my friend Richard.
Actually, I might as well go around the world to visit my friends, starting with Dani in Germany…
…Gian in Switzerland…
…Per in Sweden…
…Clara in Argentina…
…Brent and Sean in Australia.
I have a feeling I'd have fun in Barcelona. I don't know why.
Be in the audience for Graham Norton Show in London.
Liverpool for the Beatles.
Shoot a Gaitling gun…
…AK-47…
…FN P90…
…a grenade launcher…
…a sniper rifle…
…and a flamethrower.
Hit something with a sledgehammer.
Learn to throw knives…
…and dance the samba.
Make proper fried chicken.
See Ed Sheeran in concert, and…
…Jason Mraz…
…and Lady Gaga.
Complete to visit the remaining NASA space shuttle: the Enterprise in New York City…
…and Discovery in Virginia.
See more of Hawaii islands. I've only been to Oahu.
I only need to go to Alaska for a peek at the northern lights and eat crabs!
Visit the Charles M. Schulz Museum in Northern California.
Set foot in a Las Vegas nightclub and/or stay up past midnight in that gosh darn city at least once!
Visit the Vietnam Memorial in Washington DC…
…and the Smithsonian's Air and Space Museum…
…and the Natural History Museum…
…and Newseum…
…and the International Spy Museum.
Party with the Trojans in South Bend when we go play Notre Dame.
Spend a day or two at the Art Institute in Chicago because 3 hours were NOT enough time!
Have a lobster feast in New England.
Pay homage to Elvis and visit Graceland.
Set up a scholarship for Thai students who want to study arts, performing arts, communications, etc. (anything that's not science or engineering) in the U.S. You can't really find a scholarship to study abroad in the arts.
Donate money to help keep music, drama, arts, and science programs in school…
…start a school garden…
…get kids interested in science not just during school but for life.
Visit all 50 states if I can. This map is pretty lonely right now…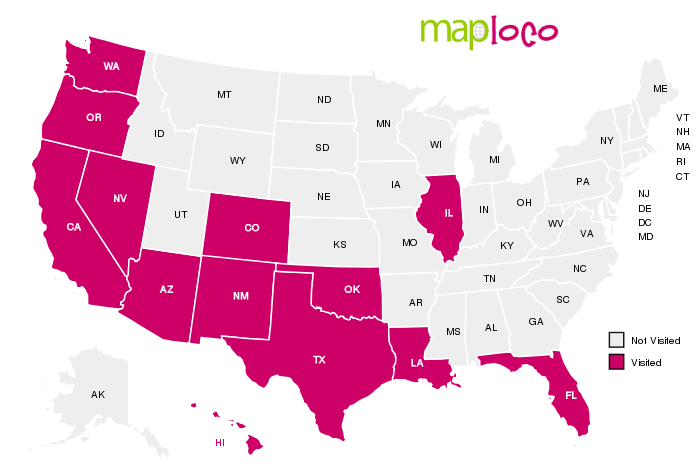 Create Your Own Visited States Map
It's in the can
Learn to tap. 2017. (Well, half a year of lessons count, right?)
See the Bean in Chicago. (June 2016)
Drink at an Irish pub in Chicago. (One of the oldest pubs in the city, even! June 2016.)
Donate money to help feed kids better lunch. My company just donated 3 salad bars to local schools. I count that as a win! (April 2016)
Have a pint of Guinness at an Irish pub in Bangkok…on St. Patrick's Day no less! (March 2016)
Space Shuttle Atlantis in Florida. (April 2015)
Sing with a rock band.  So, it's not an all-out rock band but I performed with my friends for half of 2015. We were The Fail Wailers! (January-August 2015)
Commission a steampunk/cosplay outfit. I commissioned a wig for Slayer Leia/Harley Quinn mash up and Brandon commissioned all of his Jokerlorian armor. (2014)
Replenish local food banks. I am now also the annual supporter of Second Harvest of Orange County. (2014)
Bake a pie from scratch. Still not really brave enough to do it again, but hey, I've done it once! (December 2014)
See the inside of a WWII era bombers.  At the Evergreen Aviation and Space Museum in Oregon. One of my favorite movies from childhood was "The Mission" episode of Steven Spielberg's Amazing Stories and subsequently Memphis Belle. (October 2014)
Begins the NASA space shuttle tour with the Endeavor in Los Angeles. (2013)
See a Cirque du Soleil show. We saw Zumanity in Las Vegas. (2012)